VIOLENCE AS THE WEAPON OF POLITICAL PARTIES. THE OPERATION OF ORJUNA AND SRNAO IN VOJVODINA (1922 – 1924)
ZOLTÁN DÉVAVÁRI

University of Novi Sad, Hungarian Language Teacher Training Faculty, Subotica
Keywords:
ORJUNA, SRNAO, Democratic Party, Radical Party, violence, terror, minorities
Abstract
This paper deals with the ideology, terror and operations of the ORJUNA (Organization of Yugoslav Nationalists) and the SRNAO (Serbian National Youth) in Vojvodina. These organizations had an important and determining role in the political life of the Kingdom of SHS (Kingdom of Serbs, Croats and Slovenes).
The foundation and operation of the ORUJNA and the SRNAO had a great impact on political and everyday life in Vojvodina and determined the lives of minorities (Hungarians, Germans and Jews) living in this new South Slavic state. In spite of the fact that influential movements greatly influenced the internal affairs of the Kingdom of SHS in the first decade of its existence (1918-1929), the literature on the ORJUNA and the SRNAO is incomplete to this day.
Therefore, in addition to the relevant literature, this paper introduces and analyses the activity of the ORJUNA and the SRNAO concerning the minorities in Vojvodina by focusing on the period between the two elections from 18 March 1923 to 8 January 1925 using sources such as the liberal Bácsmegyei Napló in Subotica, the Hungarian Party's Hírlap, the 1922-1925 issue of Torontál in Zrenjanin and the Catholic Délbácska in Novi Sad.
The unfamiliarity, lack of analysis and importance of this topic require further research in the relevant archives.
Downloads
Download data is not yet available.
References
Bajić, P. 'Srpstvo i Jugoslovenstvo u politici Srpske Nacionalne Omladine (SRNAO)', Kultura Polisa, 2/3, 2005, 165-179.
Banac, I. 'Srpska nacionalna omladina (Srnao)', Istorijski glasnik, 2-3, 1964, 3-38.
Bjelica, L. S. Politički razvoj Novog Sada 1918 – 1941, Novi Sad: Filozofski Fakultet u Novom Sadu, 2008.
______. Radikali u Vojvodini, 1919 – 1929, Beograd: Zadužbina Andrejević, 2004.
______. 'Novosadski dani Dobroslava Jevđevića', in: D. Mastilović (ed.), Zbornik radova sa naučnog skupa (Pale, 22 – 24. maj 2015) konferencije "Nauka i evrointegracije", knjiga 10, tom 1, Pale: Filozofski fakultet, 2015, 7-19.
Čop, R. ORJUNA – prototip politične organizacije, Ljubljana: Univerza V Ljubljani, Fakulteta za družbene vede, 2006. http://dk.fdv.uni-lj.si/dela/Cop-Robert.PDF (accessed 11. 9. 2017.)
Čulinović, F. Jugoslavija između dva rata I, Zagreb: Jugoslavenske akademija znanosti i umjetnosti, 1961.
Dévavári, Z. Új partok felé – Kisebbségi kiútkeresés, szellemi és politikai irányzatok a Délvidéken és a Magyar Párt megalakulása (1918-1923), Senta/Zenta: Vajdasági Magyar Művelődési Intézet, 2014.
Djuraskovic, S. Fascism in Central Europe: The Organisation of the YUGOSLAV NATIONALIST – ORJUNA, 1921-1929, Budapest: Submitted to Central European University, History Department, 2007. http://www.etd.ceu.hu/2007/djuraskovic_stevo.pdf (accessed 11. 09. 2017.)
Đurašković, S. 'Ideologija Organizacije jugoslovenskih nacionalista (Orjuna)', Časopis za suvremenu povijest, 43, 225-247.
Gligorijević, B. 'Organizacija jugoslovenskih nacionalista (Orjuna)', in: D. Janković (ed.), Istorija XX veka – zbornik radova V, Beograd: Institut društvenih nauka, odeljenje za istorijske nauke, 1963, 315-393.
Karaula, Ž. HANAO – Hrvatska Nacionalna Omladina, Zagreb: Nakladna Berza, 2011.
______. 'Hrvatska nacionalna omladina - (HANAO): prilog proučavanju djelovanja i rada hrvatskih omladinskih organizacija u Kraljevini SHS', Historijski Zbornik, LXI/2, 2008, 289-322.
Martinov, V. – Nezić, V. (ed.), Političke angažovanje omladinske organizacije u Vojvodini 1919 – 1940, Novi Sad: Alternativna kulturna organizacija - AKO (Novi Sad) i Rosa Luxemburg Stiftung, Regionalna kancelarija za jugoistočnu Evropu (Beograd), 2014.
Popov, D. Srpska štampa u Vojvodini 1918 – 1941, Novi Sad: Matica Srpska, 1983.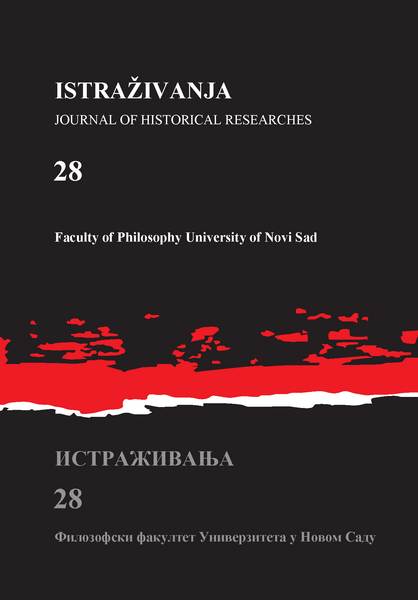 This work is licensed under a Creative Commons Attribution-ShareAlike 4.0 International License.